From National Sawdust: "On Pitom"
David Krakauer Presents: On Pitom
Friday, April 20th @ 7pm
About the Show
"A dazzling debut"
The Wall Street Journal
"A rocking band performing catchy, hooky compositions that both pay tribute to and challenge the Jewish tradition…Pitom is a hard-edged new addition to the legacy of Radical Jewish Culture."
John Zorn
Avant-garde rock meets the Jewish tradition in On Pitom, a shredding instrumental band led by guitarist Yoshie Fruchter.
This fiery quartet combines influences from Frank Zappa, The Melvins and Masada into an exciting band performing catchy compostions that both pay tribute to and challenge its heritage. With two releases on John Zorn's Tzadik Records, the Radical Jewish Culture series, and more music on the way, On Pitom continues their exploration of the New Jewish rock sound.
About the Artists
Pitom is a Jewish jazz-punk-sludge-metal hybrid – the kind of music that could only come from a culture known for wandering. With two successful albums on Tzadik records, the first of which the Wall Street Journal called a "dazzling debut," Pitom continues to evolve their unique brand of musical adventure. With its cacophonic guitar, surly heavy-metal bass and a soaring violin, their music is so ethereal that the listener needs those mosh-pit drums to rocket them back down to Earth.
Pitom's bandleader, guitarist/composer Yoshie Fruchter has been making his mark on the downtown community since 2005.

Yoshie Fruchter
Born into a cantorial family, his unique background in Jewish music, jazz and rock give his guitar sound and approach a flavor that is both extremely musical and yet out of control. The other three members of Pitom – bassist Shanir Blumenkrantz, drummer Kevin Zubek and violinist Jeremy Brown, all amazingly talented musicians in their own right, bring influences from traditional klezmer to noise rock to make this thoughtful and groundbreaking music.

Shanir Blumenkrantz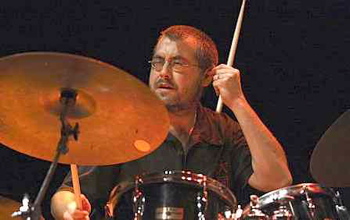 Kevin Zubek

Jeremy Brown
Tzadik records founder, John Zorn, described Blasphemy as "a fiery and soulful album that you will listen to again and again" and audiences around the world, Jewish or not, have felt the same way. Pitom has performed all over the country and in Eastern and Western Europe including the Atlantique Jazz Festival in France, Otwarda Twarda festival in Warsaw, and Jewish music festivals in Washington DC, Detroit and New York City.
See the full article here .
National Sawdust, is an unparalleled, artist-led, nonprofit venue, is a place for exploration and discovery. A place where emerging and established artists can share their music with serious music fans and casual listeners alike.
In a city teeming with venues, National Sawdust is a singular space founded with an expansive vision: to provide composers and musicians across genres a home in which they can flourish, a setting where they are given unprecedented support and critical resources essential to create, and then share, their work.
As a composer, I believe the role of an artist in the 21st century should be that of creator, educator, activist, and entrepreneur. I believe that 21st-century composers/artists need to be thinking about what impact they can have on their existing community, both locally and globally. At NS we believe in remaining flexible and true to the needs of artists. Our core mission is centered on the support of emerging artists, and on commissioning and supporting the seeds of ideas. Each year, we explore one large theme and construct programming and questions around that theme. This year, that theme is Origins. With this season, we are channeling the National Sawdust mission—empowering high-level artistry, regardless of training, genre, or fame—through multicultural artists who tell their stories through their music. Ultimately, Origins is a radical sharing of culture. We hope this cultural storytelling of the highest caliber will help bring our divided country closer together.
We also believe the future of new art lives in education. To us, education is about giving young people and community members opportunities and tools to explore their potential for artistic and creative expression. But it is also about ensuring that artists themselves never stop learning – about their craft, about the work of their peers, about the business of the arts, about their own capacities to be educators and advocates. NS facilitates this kind of learning by bringing together artists from around the world in exciting composition- based projects, teaching opportunities, cultural exchanges, and hands-on management experience. Through this cultural synthesis artists leave lasting impressions on one another, become more versatile and resilient professionals, and create works that reflect a plural understanding of American society.
–Paola Prestini, co-founder & Artist Director

For new music by living composers

newsounds.org from New York Public Radio

For great Jazz


WPRB


Dan Buskirk Spinning Jazz Mondays 11:00AM-1:00PM
Will Constantine Jr, Blues Bop and Beyond Thursdays 11:00AM-2:00PM featuring Latin Jazz
Jerry Gordon Serenade to a Cookoo Fridays 11:00AM-2:00PM with Jerry's Room at 1:00Pm
Jeannie Becker Sunday Jazz 10:00AM-1:00PM

Please visit The Jazz Loft Project based on the work of Sam Stephenson
Please visit The Jazz Loft Radio project from New York Public Radio
Please help promote STEM in your local schools.