From WQXR : "The Trombone's Wild Path to the Orchestra"
May 1, 2018
James Bennett, II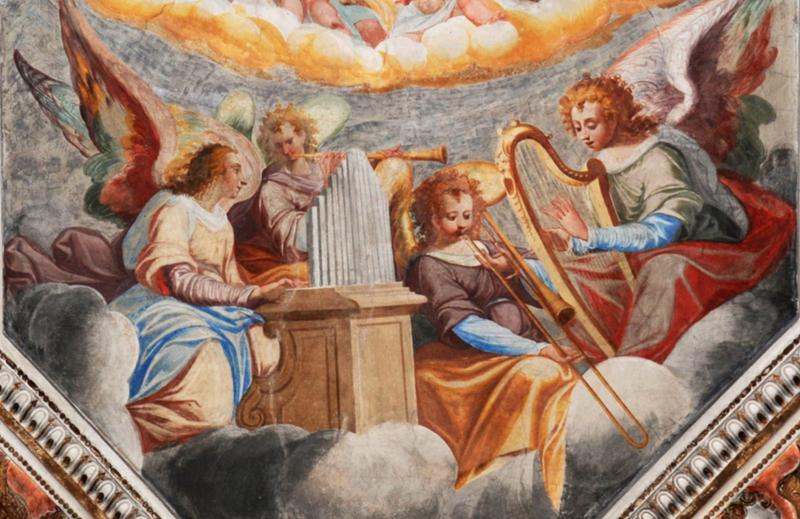 No image credit found
In his analysis of Schumann's Second Symphony, Leonard Bernstein highlights a moment in the first movement that garnered some harsh criticism from not only Schumann's contemporaries, but from composers and conductors in the years following his death. Can you figure out what that "issue" is?

43 minutes
It's all that wonderful, solemn brass. With it, Bernstein explains, Schumann made "a significant contribution to the history of orchestration for using the brass instruments for his main singing line." And while the sound of that opening, unified brass is reminiscent of a trumpet call, the delicacy with which the brass players produce it — especially against the controlled restlessness of the strings beneath — becomes all the more lyrical, "as if it were no simple trumpet call, but one that came from the furthest reaches of the universe." It turns out that usage was on the novel side of orchestral history, and it was a bit of an orchestral faux pas: For years, the brass was sparingly employed for dramatic flair and punctuation — never melody. That was the strings' job.
But to Bernstein there is something even more unusual within the brass line: the trombone, which Bernstein calls "really exceptional" among the pairs of trumpets and horns.
The trombone had one of the more interesting journeys into the modern orchestra. It made its way around different European circles independently, reaching places like England and Spain decades apart. Forerunners to the trombone were variously known in English as the "sackbut," "shagbut" and "shakbush." Funny names to be sure, but it makes sense when you learn the term probably comes from the Spanish sacar or Middle French saquer (to pull), and the French bouter (to shove). After all, what's trombone playing but a pull and a push? It's also important to remember that "sackbut" wasn't used to identify one particular instrument, and instead referred to a variety of instruments with single telescopic slides. The Harvard Concise Dictionary of Music and Musicians suggests the trombones origins lay in long medieval trumpets, known in Italian as the tromba and Old French as the buisine. Larger trombas came to be called trombones in Italy, while buisine made its way to German as Posaune.
According to Grove, from the 16th to 17th century, "the trombone was one of the most prominent professional instruments," and it eventually found a natural home in church music. The sound produced by a group of them was perceived as incredibly solemn and reverential, perhaps laying the groundwork for future associations with the "underworld and supernatural." But by the end of the 17th century, it fell out of wide usage, possibly due to a desire for French-style string orchestras. (One Canterbury Cathedral registry mentions two trombones described as "two brass Sackbuts not us'd for a grete number of years past.")
The trombone refused to die. Handel employed them in his oratorios Israel in Egypt and Saul, and they came back for the Handel Commemoration in 1784, which marked 25 years since the composer's death. (They must have been an English rarity judging by one observant concertgoer, who described them as "bassoons with an end like a large speaking trumpet.") Other composers included them to conjure those hellish associations: Gluck used them to signal the underworld in Orfeo ed Euridice, and Mozart for Don Giovanni's dinner from hell (the latter only used trombones in operas and some sacred music, never in his other orchestral works).
Things changed, though slightly, with Beethoven.
According to University of Texas musicology doctoral candidate Michael Lee Harland, trombones were "first introduced into the symphony by Beethoven in his Fifth, representing a heroic victory over fate and death." That's particularly interesting with respect to the trombone's earlier religious associations. Using the instrument here, Harland posits, is "harnessing the power of its sacred association toward more humanistic (Romantic) ends." But he didn't make it a trend: as Bernstein noted in his analysis of Schumann's second, Beethoven only used the trombone in two of his symphonies. (Although, in addition to the Fifth and Ninth, the Beethoven's Sixth Symphony also employs trombones).
When Beethoven died in 1827, he left a musical legacy that inspired the next generation of composers. Though his trombone usage was light, it was significant, and helped the instrument acquire (along with others in the brass section) a new association with the heroic, which led composers like Schumann to embrace a little more brass. Not everyone was on board though. "There were more traditional critics of this tendency," says Harland, "who saw the expansion of the orchestra as something that betrayed an Enlightenment-influenced understanding of beauty as something restrained and understated." Hence the kind of criticisms Schumann's symphony received.
But thanks to imaginative orchestrating — and technological advances in the instruments themselves (for a long time brasses had a limited range and was notoriously difficult to tune) — the trombone joined the expanding, diversifying orchestra. Hector Berlioz, who Bernstein identifies as a skilled orchestrator, wrote that the trombone "is the real leader among the class of wind instruments I have described as epic," and praised its broad capabilities, which ranged from "imposing and calm religious tones to the frenzied clamour of an orgy." And even though it seemed to be earning a regular place, some composers still expressed timidity when it came to writing for it, which may have impacted audience perception of it (though Harland notes that more "progressive" composers like Wagner and Liszt were more comfortable including them, as opposed to traditionalists like Brahms and Schumann). Anthony C. Baines writes in Grove, "Nineteenth-century composers often limited themselves to a stereotyped usage of the trombone for reinforcements of tutti passages and for background harmonies in soft passages." The effects of those decisions were far-reaching, and as 19th-century music has dominated concert programs in the 20th and 21st centuries, audiences are familiar with the "least interesting sides of the trombone's character."
If anything, that should serve as a parable on the importance of programming contemporary music. Luckily, time has made the trombone ever more popular — it plays an integral role in jazz and swing bands, and its classical possibilities are still being explored by contemporary composers like Melinda Wagner, whose Trombone Concerto was premiered in 2007.
See the full article here .
WQXR-FM (105.9 FM) is an American classical radio station licensed to Newark, New Jersey and serving the New York City metropolitan area. It is the most-listened-to classical-music station in the United States, with an average quarter-hour audience of 63,000.[citation needed]
It is owned by the nonprofit New York Public Radio, which also operates WNYC (820 AM and 93.9 FM) and the four-station New Jersey Public Radio group. New York Public Radio acquired WQXR on July 14, 2009, as part of a three-way trade which also involved The New York Times Company – the previous owners of WQXR – and Univision Radio.[1] WQXR-FM broadcasts from studios and offices located in the Hudson Square neighborhood in Lower Manhattan, New York City, and the transmitter is located atop the Empire State Building.
Please help promote STEM in your local schools.
For new music by living composers
newsounds.org from New York Public Radio

https://www.wnyc.org/
93.9FM
https://www.wqxr.org/
105.9FM
http://www.thegreenespace.org/
For great Jazz


88.3FM http://wbgo.org/
WPRB 103.3FM

Dan Buskirk Spinning Jazz Mondays 11:00AM-1:00PM
Will Constantine Jr, Blues Bop and Beyond Thursdays 11:00-2:00 featuring Latin Jazz
Jerry Gordon Serenade to a Cookoo Frdays 11:00AM-2:00PM with Jerry's Room at 1:00Pm
Jeannie Becker Sunday Jazz 10:00AM-1:00Pm

Please visit The Jazz Loft Project based on the work of Sam Stephenson
Please visit The Jazz Loft Radio project from New York Public Radio