From Cuneiform Records: Two New Releases by Thumbscrew
Here's something that I genuinely thought I would never say again: Below are two new Cuneiform releases.
These two releases represent my trying find a balance between the ability to keep doing something I think I am very good at (curating a world-class record label of indefinable, cutting edge music and paying musicians what they are owed) with something that is no longer possible in today's music business environment: not losing gobs of cash while doing so.
But my wonderful staff is now my former wonderful staff, and my expenses are reduced; it's just me doing it all now. So while Cuneiform can no longer do what we used to do, I am hoping to find a workable balance between the extremes and still do something to help bring great music into the world.
Without going broke.
We'll see.
That's why I am sticking two toes (or thumbs, if you prefer) back in the water. Regardless of how it goes, I want to publicly acknowledge my deep gratitude towards the many of the folks who we worked with over the decades, who called up or wrote to offer words of wholehearted appreciation and / or encouragement when I really needed it. And very specifically to thank Michael, Tomas and Mary who went very much out of their way to lure me back in and make me feel that Cuneiform could still be useful and that I could still be useful too.
These releases are not going to be generally released for another few weeks, but you can buy them directly from us right now! Our releases are available from us to our direct mail customers several weeks before they are generally released or available from other sources.
We spend a small fortune on our releases and your direct purchase of the physical CDs from us via Wayside Music [see just below] or digitally from us via our bandcamp page helps us tremendously and is extremely important to our being able to continue our work. Please don't steal them or make it possible for others to steal them. If you want this music, pay for it. Simple as that.
Thank you for your interest and thank you for sending nice notes to me when we all thought Cuneiform was 100% completely over and done; if you really meant it, please show it by buying these or buying something else we've released.

Thumbscrew: Michael Formanek / Tomas Fujiwara / Mary Halvorson-Ours $15.00

Photo Credit: Eliseo Cardona
Michael Formanek – bass

Peter Gannushkin
Tomas Fujiwara – drums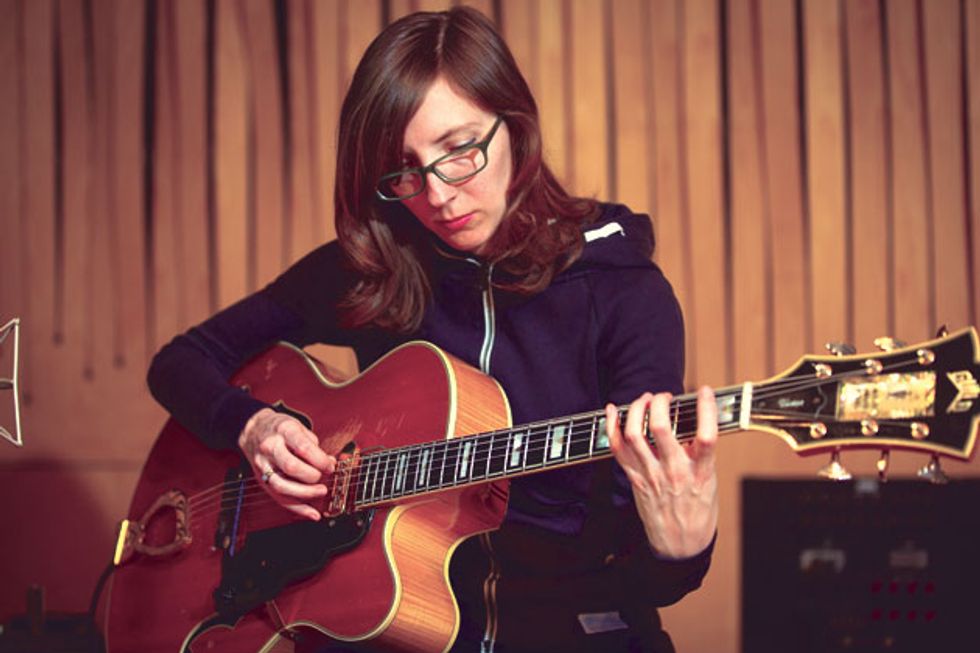 Mary Halvorson – guitar
Photo by Kelly Jensen
Thumbscrew demonstrates their unique collective musical vision in contrasting but complementary ways on two exciting new CDs. Ours and Theirs are the first to be released on a newly revamped Cuneiform Records, just returning from a hiatus. Comprised of longtime collaborators Michael Formanek, Tomas Fujiwara, and Mary Halvorson, Thumbscrew is a true collaborative effort with all three members contributing at an equal rate both in terms of composition and improvisation.
Born out of a residency at Pittsburgh's City of Asylum where Thumbscrew created their striking second album Convallaria, Ours and Theirs showcase Thumbscrew in two different contexts performing all originals on Ours and all covers on Theirs. Both albums present a meticulous and intuitive original sound that could only be crafted during focused and intensive time as a collective in a place like City of Asylum. "When we arrived at City of Asylum for our second residency in June 2017, we immediately said, 'we're home!'" says Fujiwara, "The feelings we get when being at City of Asylum, around the people that make it such a unique place doing great work…All of this contributes to a creative process that's open and inclusive and experimental."
Tomas, Michael, and Mary are no strangers to each other's work, having performed in a multitude of projects together, including Michael Formanek's Ensemble Kolossus, Tomas Fujiwara and the Hook Up's After All is Said, and most recently, in Mary Halvorson's critically-acclaimed Code Girl.
Ours, as its namesake suggests, is an album of original compositions with Fujiwara, Formanek and Halvorson contributing three works apiece. Opening with Halvorson's striking Snarling Joys, Ours begins with delicate (and ever so slightly warped) ensemble figures that very naturally develop into an urgent and tense thrill-ride of a track, with a brilliant bass solo from Formanek. Fujiwara's Saturn Way shows the ensemble bouncing off of each other's rhythmic framework with Fujiwara anchoring the group through a pummeling rolling tom figure that slowly descends into a spacious and attentive group improvisation. Later, on Formanek's punk-thru-the-wormhole style "Cruel Heartless Bastards" the ensemble shifts metric pulse in total lockstep on the turn of a dime while a teasing 4/4 figure creates a sense of gravity for the entire composition. Halvorson takes the track to the stratosphere with a dizzying guitar pedal laden solo after the group snakes their way through Formanek's labyrinth.
On the contrast between the two records, Halvorson says, "The approach to presenting a unique and personal take on a composition is the same whether it's one of Ours or one of Theirs."
You can hear a track from the album here
Thumbscrew: Michael Formanek / Tomas Fujiwara / Michael Formanek-Theirs $15.00
Michael Formanek – bass
Tomas Fujiwara – drums
Mary Halvorson – guitar
Theirs features covers penned by venerable composers, from North American jazz legends Benny Golson and Wayne Shorter, to South American composers Julio De Caro (Argentina) and Jacob Do Bandolim (Brazil), to songwriter Evelyn Danzig and Dutch avant-gardist Misha Mengelberg. Thumbscrew covers considerable ground in bringing their unique arrangements and ensemble sensibility to this transfixing set of other composers' music. On the selection of covers, Fujiwara says, "Each of us brought in a number of covers–more than double what we ended up releasing–that we were curious for Thumbscrew to try. We played through each composition many times, trying different arrangements, and slowly started to focus in on which ones felt right for the group." Formanek states that "for me it was mostly a matter of which tunes I thought would have strong enough bones to sustain a Thumbscrew interpretation. It was also a matter of imagining how certain pieces would work with Mary, Tomas, and my approaches that wouldn't sound like just another version."
On the contrast between the two records, Halvorson says, "The difference is that with the covers we're aware of trying to honor the composer's vision, and in many cases, classic versions of the song which serve as inspirations."
You can hear a track from the album here
See the full article here .
Please help promote STEM in your local schools.
For new music by living composers
newsounds.org from New York Public Radio

https://www.wnyc.org/
93.9FM
https://www.wqxr.org/
105.9FM
http://www.thegreenespace.org/
For great Jazz


88.3FM http://wbgo.org/
WPRB 103.3FM

Dan Buskirk Spinning Jazz Mondays 11:00AM-1:00PM
Will Constantine Jr, Blues Bop and Beyond Thursdays 11:00-2:00 featuring Latin Jazz
Jerry Gordon Serenade to a Cookoo Frdays 11:00AM-2:00PM with Jerry's Room at 1:00Pm
Jeannie Becker Sunday Jazz 10:00AM-1:00Pm

Please visit The Jazz Loft Project based on the work of Sam Stephenson
Please visit The Jazz Loft Radio project from New York Public Radio