From Lincoln Center: Mostly Mozart- Mark Morris Dance Group
Mark Morris Dance Group
Mark Morris, choreographer
I Don't Want to Love
Monteverdi: Madrigals
Jolle Greenleaf, Brian Giebler, James Kennerley, Thomas Meglioranza, vocalists
Colin Fowler, harpsichord
Hank Heijink, theorbo
Daniel Swenberg, lute/guitar
John Moran, cello
Love Song Waltzes
Brahms: Liebeslieder-Walzer
Jennifer Zetlan, Luthien Brackett, Thomas Cooley, Thomas Meglioranza, vocalists
Colin Fowler, Amir Farid, piano
The Trout (World premiere)
Schubert: Piano Quintet in A major ("Trout")
Inon Barnatan, piano
Ariel Quartet (Mostly Mozart Festival debut)
Timothy Cobb, bass
August 9–12, 2018 Rose Theater, Jazz at Lincoln Center's Frederick P. Rose Hall
Pre-performance talk with Mark Morris and Benjamin D. Sosland on Friday, August 10 at 6:15 pm in the Agnes Varis and Karl Leichtman Studio
Choose a Performance
Thursday, August 9, 2018 at 7:30 pm
Friday, August 10, 2018 at 7:30 pm
Saturday, August 11, 2018 at 7:30 pm
Sunday, August 12, 2018 at 5:00 pm
Tickets- See the full article as there is no simple tickets link, but a link for each performance.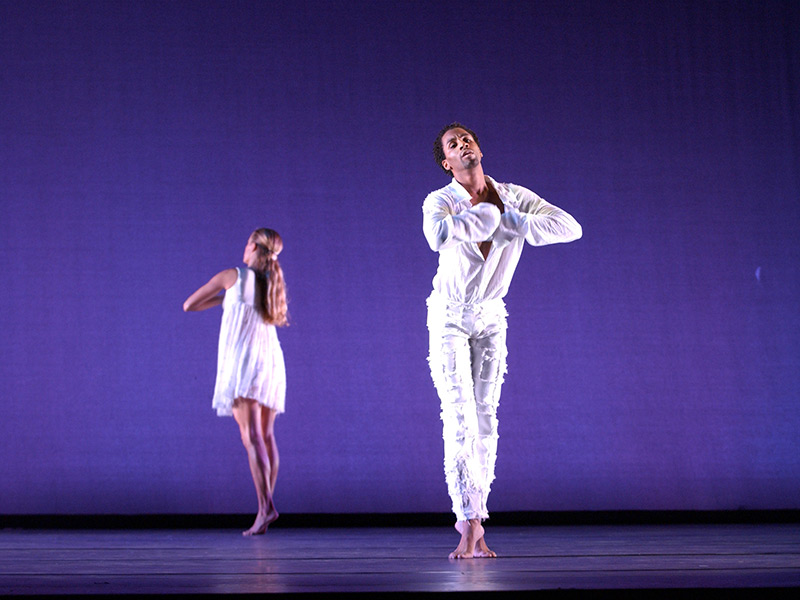 "Indisputably the most musical choreographer alive" (New York Times), Mark Morris illuminates music by Monteverdi, Brahms, and Schubert with his kinetic, witty, poetic dancemaking. The program opens with two dances that reveal the intricacies of romantic love—1989's buoyant Love Song Waltzes set to Brahms's Liebeslieder-Walzer for voice and piano four hands, and 1996's I Don't Want to Love, a revelatory exploration of some of Monteverdi's most lovelorn madrigals. The performance culminates with a highly anticipated world premiere that brings new life and lift to Schubert's enchanting chamber-music masterpiece, the "Trout" Quintet.
"Works that are among the peaks of American dance (and thus world dance) and that have taken dance expression where it has not been before."
– New York Times
"The most successful and influential choreographer alive, and indisputably the most musical."
– New York Times
"Morris' patterns have the power to make you hear the music the way he wants you to, and that is never predictable."
– Los Angeles Times
Performance length: One hour and 50 minutes, including intermission
If purchasing tickets in person: Tickets will be available at the Jazz at Lincoln Center Box Office (Broadway at 60th Street, Ground Floor) two weeks prior to the performance. You may purchase tickets now at the Alice Tully Hall and David Geffen Hall Box Offices (Broadway at 65th Street).
See the full article here .

five-ways-keep-your-child-safe-school-shootings
Please help promote STEM in your local schools.

Lincoln Center for the Performing Arts is a 16.3-acre (6.6-hectare) complex of buildings in the Lincoln Square neighborhood of the borough of Manhattan in New York City. It hosts many notable performing arts organizations, which are nationally and internationally renowned, including the New York Philharmonic, the Metropolitan Opera, the New York City Ballet and the New York City Opera.
For new music by living composers
newsounds.org from New York Public Radio

https://www.wnyc.org/
93.9FM
https://www.wqxr.org/
105.9FM
http://www.thegreenespace.org/
For great Jazz


88.3FM http://wbgo.org/
WPRB 103.3FM

Dan Buskirk Spinning Jazz Mondays 11:00AM-1:00PM
Will Constantine Jr, Blues Bop and Beyond Thursdays 11:00-2:00 featuring Latin Jazz
Jerry Gordon Serenade to a Cookoo Frdays 11:00AM-2:00PM with Jerry's Room at 1:00Pm
Jeannie Becker Sunday Jazz 10:00AM-1:00Pm

Please visit The Jazz Loft Project based on the work of Sam Stephenson
Please visit The Jazz Loft Radio project from New York Public Radio