From Lincoln Center – Mostly Mozart Festival: "Americans in Paris"
July 24–25, 2018 David Geffen Hall
Tuesday, July 24, 2018 at 7:30 pm
Wednesday, July 25, 2018 at 7:30 pm
Mostly Mozart Festival Orchestra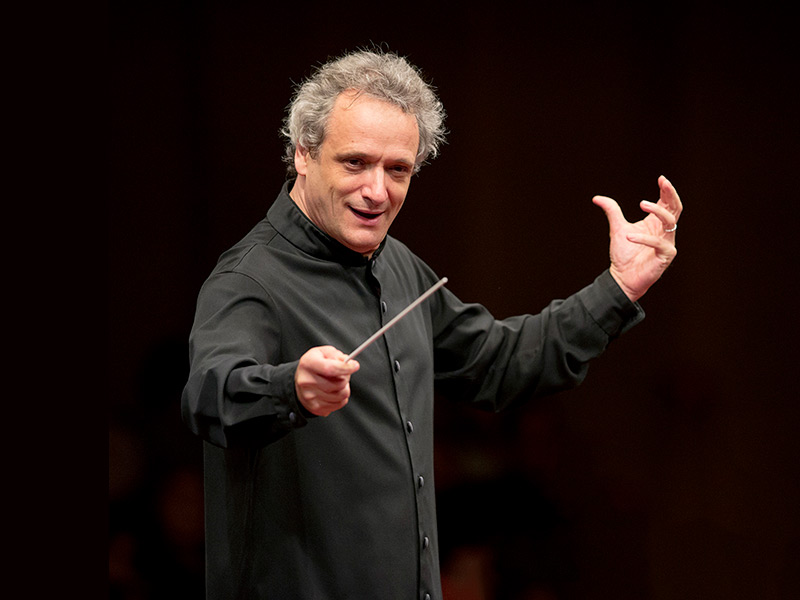 Louis Langrée, conductor. Photo Credit Jennifer Taylor
Emanuel Ax, piano
Friedrich Heinrich Kern, glass harmonica (Mostly Mozart Festival debut)
Philipp Marguerre, glass harmonica
Jasmine Choi, flute
Max Blair, oboe
Shmuel Katz, viola
Ilya Finkelshteyn, cello
Pre-concert recitals at 6:30 pm
Friedrich Heinrich Kern and Philipp Marguerre, glass harmonicas
Works by Mozart, Naumann, and more
David Geffen Hall
The Program
Bernstein: Overture to Candide
Mozart: Piano Concerto No. 17 in G major, K.453
Mozart: Adagio and Rondo in C minor for glass harmonica, flute, oboe, viola, and cello, K.617
Gershwin: An American in Paris (New critical edition, edited by Mark Clague)
For this exhilarating evening inspired by fable and the French-American connection, maestro Louis Langrée leads the Festival Orchestra in Bernstein's Voltaire-inspired overture and a new edition of Gershwin's score to An American in Paris. The ultimate American Mozart pianist Emanuel Ax ignites the famous melodies of one of Mozart's finest piano concertos (also Bernstein's favorite "party" piece). And a rarely performed Mozart chamber work showcases the glass harmonica, invented by another famous American in Paris: Benjamin Franklin.
"Always thoughtful, lyrical, lustrous."
– Washington Post on Emanuel Ax
"There are few surer guarantees of quality in classical music than the combination of Mr. Ax and Mozart."
– New York Times
See the full article here .

five-ways-keep-your-child-safe-school-shootings
Please help promote STEM in your local schools.

Lincoln Center for the Performing Arts is a 16.3-acre (6.6-hectare) complex of buildings in the Lincoln Square neighborhood of the borough of Manhattan in New York City. It hosts many notable performing arts organizations, which are nationally and internationally renowned, including the New York Philharmonic, the Metropolitan Opera, the New York City Ballet and the New York City Opera.
For new music by living composers
newsounds.org from New York Public Radio

https://www.wnyc.org/
93.9FM
https://www.wqxr.org/
105.9FM
http://www.thegreenespace.org/
For great Jazz


88.3FM http://wbgo.org/
WPRB 103.3FM

Dan Buskirk Spinning Jazz Mondays 11:00AM-1:00PM
Will Constantine Jr, Blues Bop and Beyond Thursdays 11:00-2:00 featuring Latin Jazz
Jerry Gordon Serenade to a Cookoo Frdays 11:00AM-2:00PM with Jerry's Room at 1:00Pm
Jeannie Becker Sunday Jazz 10:00AM-1:00Pm

Please visit The Jazz Loft Project based on the work of Sam Stephenson
Please visit The Jazz Loft Radio project from New York Public Radio