From LPR: "Tony Allen at LPR"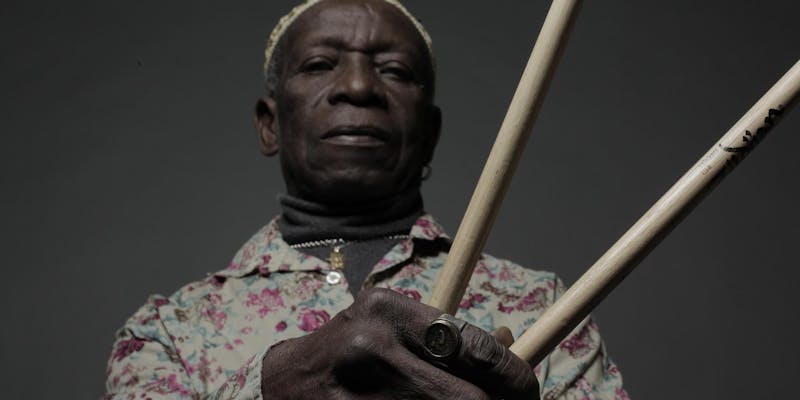 Tony Allen at LPR
Wed, August 1, 2018
7:00 PM – 11:00 PM EDT
7:00 pm doors, 8:00 pm show | 18+
$20 advance | $25 day of show
For ticketing see the full article.
Drum legend Tony Allen has seen a childhood dream come true. He even says that when he made The Source (his debut album for Blue Note Records), it was the best recording in his whole life. Coming from Allen, that's not a casual statement: he is 76 years old and his career goes back 50 years, not to mention recordings by the hundred. The saxophonist Yann Jankielewicz, who has been playing alongside him for nearly a decade, observes: "Tony has never played drums as well as this. He's never had as much freedom, never had as much power as he does today."
The Source is the Nigerian-born Paris-based drummer's first full-length album for Blue Note, following the tantalizing 4-track EP release A Tribute to Art Blakey and the Jazz Messengers. Blue Note is one of the most prestigious names in jazz and a label that has opened its sphere of creativity considerably wider since its renaissance in the 1980s. The Source manages to represent the label's classic era at the same time as it symbolizes Blue Note's innovative present. The jazz here navigates its way back to the source in Africa, creating a sound that is totally captivating.
The best albums always tell a story. This one takes us back to the source of Allen's art as a musician, in other words, to Nigeria in the latter half of the 20th century. Tony Oladipo Allen, who was born in Lagos in 1940, never played a traditional instrument: right from the beginning, his interest was for a distant relative of the ancestral percussion family, namely, the drum kit. He taught himself, serving his apprenticeship while working as a technician for Nigerian national radio, all the time listening to records by American masters such as Art Blakey, Max Roach and Kenny Clarke, the eminent drummers of the bebop and hard bop eras.
His life changed totally in 1964 when he made the acquaintance of Fela Kuti, whom he would accompany for the next 15 years, first with Fela's Koola Lobitos, an emblematic highlife band that was a model for all modern African music groups, and then when Fela led Africa 70, for which he developed a new music language: Afrobeat, which combined Yoruba rhythms and funk instruments with themes of revolution. Alongside Fela, Tony recorded some 20 albums and put his rhythm-signature to each of them. From then on, Afrobeat would propel a career that saw him pursue his own projects while collaborating with everyone from Oumou Sangare to Damon Albarn (in The Good, The Bad & The Queen).
In early 2017, Tony began preparing The Source, the next step in the musical and spiritual voyage that he has undertaken from Africa to America and beyond. To share writing tasks and take care of the arrangements, he called on Jankielewicz, with whom he has worked since 2009 and the album Secret Agent. They began by getting together to listen to and exchange their favorite records: Lester Bowie, Charles Mingus, Art Blakey, Gil Evans… albums that served as a compass to guide them on their way, as if they were navigators of old scrutinizing a constellation.
"Tony belongs to those musician-architects who know how to build on a drum pattern with rare precision," says Jankielewicz. "He can hear every instrument before it makes a sound." This particular architect's worksite was the Midilive studio (Vogue's former recording facility), whose walls in the suburbs of Paris contain equipment that is purely analogue. It's a rare studio, and it's worth underlining that the recording went onto tape and, from the sound-take to the mixing and cutting, not a single digital byte was consumed in the process. That goes some way towards explaining the exceptional texture of the sound you hear in the album.
Surrounding Tony are some of the best musicians on a scene that is difficult to call "jazz" due to its highly changeable nature: Jankielewicz alongside saxophonists Rémi Sciuto and Jean-Jacques Elangue, trumpeter Nicolas Giraud, trombonist Daniel Zimmermann, bassist Mathias Allamane, pianist Jean-Philippe Dary, and keyboardist Vincent Taurelle… a French cast to begin with, but with the addition of guitarist Indy Dibongue from Cameroon who, like Tony, contributes an indispensable African pigment to this palette. 11 excellent players in total would finally deliver The Source, along with one notable guest: Damon Albarn, who adds an ethereal piano part to Cool Cats.
The album sparkles in the variety of its timbres and the diversity of its colors. Each of the 11 instrumental tracks bring forward a particular instrument: Giraud's trumpet on Bad Roads; the bass of Allamane on Crusin'; Dary's piano inside On Fire, and Sciuto's bari sax on Woro Dance. With Cool Cats, it's the turn of Elangue and his tenor, while Zimmerman's trombone is featured on Wolf Eats Wolf. And throughout, Tony's indelible signature, a unique way of hitting skins or a cymbal, its main characteristics a caressing, almost ethereal energy, and a formidable efficiency.
The music on The Source creates its own milieu. It shines like the African sun on Push & Pull, becomes contemplative with Tony's Blues, then hypnotic in Life Is Beautiful, then dresses in the urban colors of dusk on Ewajo. Where is the jazz, where is the Afrobeat, in this insistent swirl of the music? Nobody knows. But nor should we ask the ocean's calm or restless waters to differentiate between currents from the river Niger and those from the Mississippi.
See the full article here .
five-ways-keep-your-child-safe-school-shootings
Please help promote STEM in your local schools.
(Le) Poisson Rouge
(Le) Poisson Rouge is a multimedia art cabaret founded by musicians on the site of the historic Village Gate. Dedicated to the fusion of popular and art cultures in music, film, theater, dance, and fine art, the venue's mission is to revive the symbiotic relationship between art and revelry; to establish a creative asylum for both artists and audiences.
LPR prides itself in offering the highest quality eclectic programming, impeccable acoustics, and bold design. The state-of-the art performance space, engineered by the legendary John Storyk/WSDG, offers full flexibility in multiple configurations: seated, standing, in-the-round, and numerous alternative arrangements. The adjoining gallery space — The Gallery at LPR — functions as an art gallery, secondary bar, and event space. A work of art itself, the physical facilities are the embodiment of the experimental philosophy that drives the venue.
LPR is a source you can trust for exposure to visionary work, people of character, and a consistently dynamic environment. We invite you to immerse yourself in a nightlife of true substance and vitality.
Venue Highlights
flexible event space fits 250 fully seated, 700 fully standing, or any combination
138-capacity soundproof Gallery Bar adjacent to the main space
28' x 21' fixed corner stage
16' dia. portable, trundled round stage comprised of 3 individual staging sections
23' dia. hardwood sprung dance floor
engineering by John Storyk/WSDG (Electric Lady Studios, Jazz @ Lincoln Center)
1 downstage cinema-scale projection screen w/ 5.1 Meyer Surround Sound
2 upstage movable projection screens
Yamaha S6B 7' concert grand piano
elevated VIP Box & 2 private entrances
full catering kitchen & planning services
furnished Green Room w/ en suite restroom
Previous LPR Artists
Anna Netrebko • Amon Tobin • Anthony Braxton • The Antlers • Arditti Quartet • Atoms for Peace • Battles • Beck • Bela Fleck • Bill Frisell • Brad Mehldau • Broadcast • Caroline Shaw • Cat Power • Chris Thile • Cut Copy • Dan Deacon • Daniel Barenboim and the West-Eastern Divan Orchestra • David Byrne • Dean & Britta • Death • Debbie Harry • Deerhoof • Deerhunter • Destroyer • Don DeLillo • Emanuel Ax • Erykah Badu • Fiery Furnaces • Florence & The Machine • Flying Lotus • Four Tet • Glen Hansard • Glenn Branca • Gregory Porter • Hélène Grimaud • Hilary Hahn • Hot Chip • Iggy Pop & the Stooges • J. Spaceman • Jeff Mangum • Jeremy Denk • John Adams • John Zorn • Juana Molina • Junip • Justin Vivian Bond • KD Lang • Kronos Quartet • Lady Gaga • Laurie Anderson • Liars • Little Dragon • Living Colour • Lorde • Lou Reed • Lydia Lunch • Lykke Li • Marc-André Hamelin • Marc Maron • Marc Ribot • Matt and Kim • Max Richter • Medeski Martin & Wood • Menahem Pressler • Mike Watt • Moby • Mono • Múm • Nico Muhly • No Age • Norah Jones • of Montreal • Os Mutantes • Patti Smith • Paul Simon • Philip Glass • Raekwon • Reggie Watts • Regina Spektor • RZA • Salman Rushdie • The Shins • Simone Dinnerstein • Sleigh Bells • So Percussion • Spoon • Squarepusher • Steve Reich • Terry Riley • They Might Be Giants • Throbbing Gristle • Tim Hecker • Tori Amos • Toumani Diabaté • Typhoon • Yo La Tengo • Yo-Yo Ma • Yoko Ono
newsounds.org is an official radio partner of (Le) Poisson Rouge.
For new music by living composers
newsounds.org from New York Public Radio

https://www.wnyc.org/
93.9FM
https://www.wqxr.org/
105.9FM
http://www.thegreenespace.org/
For great Jazz


88.3FM http://wbgo.org/
WPRB 103.3FM

Dan Buskirk Spinning Jazz Mondays 11:00AM-1:00PM
Will Constantine Jr, Blues Bop and Beyond Thursdays 11:00-2:00 featuring Latin Jazz
Jerry Gordon Serenade to a Cookoo Frdays 11:00AM-2:00PM with Jerry's Room at 1:00Pm
Jeannie Becker Sunday Jazz 10:00AM-1:00Pm

Please visit The Jazz Loft Project based on the work of Sam Stephenson
Please visit The Jazz Loft Radio project from New York Public Radio