From New Sounds: "Dispatches From the Bang on a Can Summer Festival 2018: Part 3"
From New Sounds
Hand-picked music, genre free. 24/7 radio from New York City.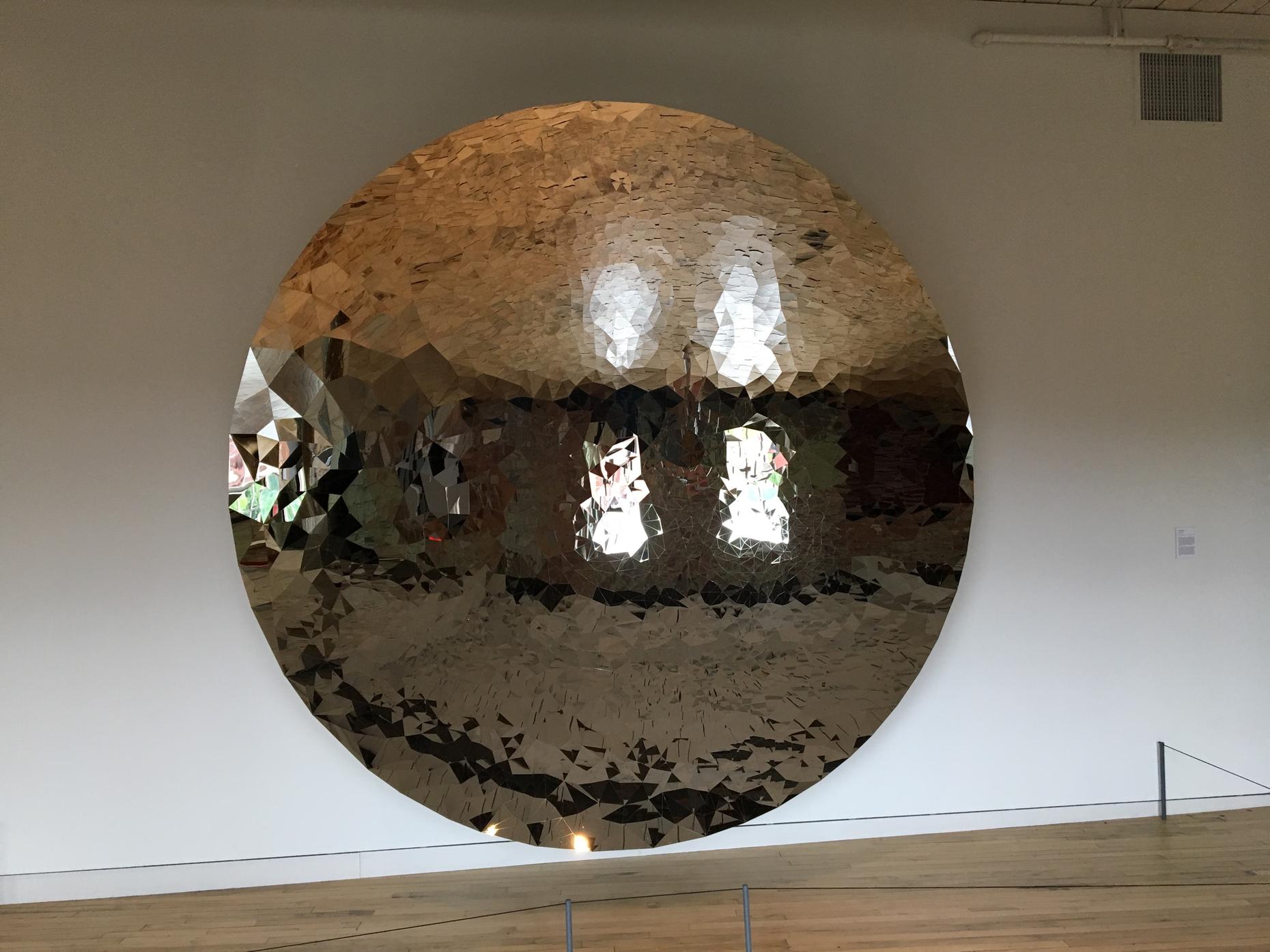 Untitled (2012) by Anish Kapoor at Mass MOCA
John Schaefer
The Bang On A Can summer festival at Mass MOCA offers a chance to explore one of the country's leading exhibitors of contemporary art – IF you can find the time. Yesterday I finally had a chance to wander around a bit. Of course there were still music events, and the Media Faculty, myself and Will Robin, did an evening talk about the role of the media in the contemporary music scene. Don't worry – the Media Fellows ignored the latter and focused on the former. Here are their latest reports.
-John Schaefer
Vicky Chow Mesmerizes MASS MoCA (And She's Just Warming Up)
By Maggie Molloy
"Please do not touch or play this piano" reads the sign atop a shiny Yamaha grand standing in the center of the Wardwell Gallery at MASS MoCA. That sign, of course, doesn't apply to Vicky Chow.
She's seated at the keyboard, warming up for her afternoon concert of Philip Glass's virtuosic Piano Etudes, the composer's rolling arpeggios echoing through the cavernous galleries of the museum. It's over an hour before her concert begins, but she's already attracted a crowd of nearly two dozen curious museum-goers: some standing, a few watching from a nearby stairwell, a couple perched in a balcony high above, and one woman seated on the floor at the foot of the piano.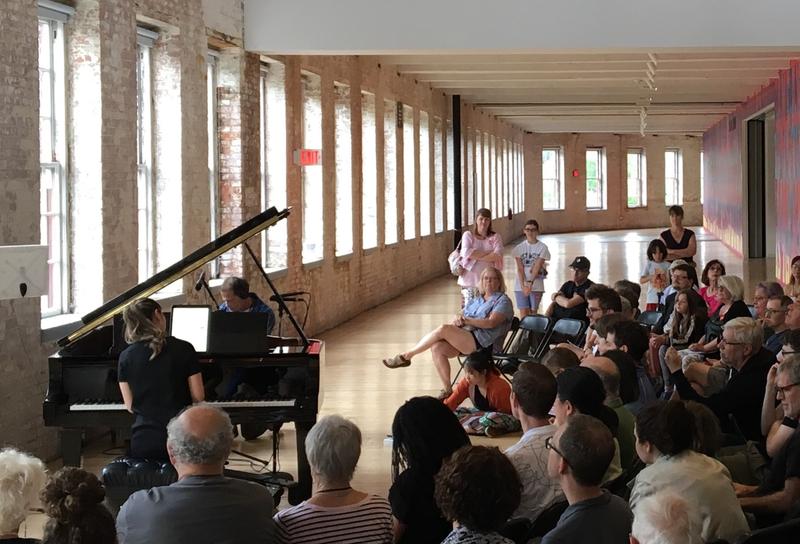 Vicky Chow plays Philip Glass in a gallery recital, "Banglewood, 2018"
(John Schaefer/ NYPR)
"The recital officially starts at 4:30," Chow tells them softly, with a smile, between excerpts. Her concert is part of Bang on a Can's three-week summer music festival—Chow is a faculty member at the annual gathering and the resident pianist of the Bang on a Can All-Stars, the collective's amplified chamber ensemble.
But even all-stars have to practice. And that's precisely the function of etudes: they are short musical compositions designed to develop (and, once learned, demonstrate) the skill and technique of the player. Glass is part of a long lineage of composers such as Chopin, Rachmaninoff, and Ligeti who have taken the etude to new heights.
"Glass's Etudes are just extraordinary examples of how even studies of certain techniques can become musical gems," Chow tells me in an interview before the concert.
Despite its brevity, her program is an impressive feat of endurance: the first six preludes plus No. 12, each its own mesmerizing web of interlocking melodies and restless momentum. When played well, Glass's circling motives can induce a trance—hence the crowd of museum patrons who stopped in their tracks to watch her practice. But she doesn't mind the impromptu audience. In fact, the open gallery performances are part of what make the Bang on a Can Summer Festival so inviting to new listeners.
"Musicians are not these magical creatures, we're just people doing the thing that we love doing," she says. "Sometimes people catch us in the middle of the work in progress—and that might be more interesting."
The warm-up may have been more intimate, but the concert itself was every bit as mesmerizing: two standing ovations, three curtain calls, and a literal encore of No. 6.
"I guess I'll just try that one again," Chow muttered to herself as she swiped through the sheet music on her iPad before launching into another blistering performance.
Connecting with Others in the Art World and Beyond
By Stan Tymorek
Timothy Peterson likes writing chamber music because the small group fosters cooperation."If someone plays a wrong note, it can sometimes sound better than what I wrote, so I just leave it in," he said in an interview yesterday, adding jokingly, "I can always acknowledge the musician with an asterisk in the program."
A composer in Bang On a Can's Summer Music Festival at MASS MoCA, Peterson has even collaborated physically on his piece Duet for Body Percussion, scored with his own form of notation. By rapidly clapping, tapping their chests and thighs, clicking their fingers and stomping their feet, Peterson and his partner did their own take on classical Indian percussion, which fascinated Peterson while studying Carnatic music in South India.
"When I was asked to compose a work that could be performed in the close quarters of a coffee shop," he recalled, "I realized there was no instrumentation more portable than body percussion."
Pivoting from Indian percussion to Greek mythology, Peterson collaborated with poet Sara Fetherolf on a song cycle about the myth of Philomela, Harp My Bones. At MASS MoCA yesterday, he accompanied mezzo-soprano Cara Search on piano as she sang the Becoming Nightingale movement of the cycle. The high notes of the piano help launch an image of the mute Philomela as she transformed into a bird to "find a flightpath…all/inarticulate…and go (all song)."
Like many artists, Peterson has a strong commitment to social justice throughout the world. During college he held an internship at Bellevue Hospital, in New York, translating for victims of torture from French-speaking African countries. Though the Bang On a Can program has "made me even more invigorated to succeed as a composer," he sees himself volunteering for such socially conscious work in addition to his career.
Peterson also has a clear approach to another common artistic dilemma, finding an audience for your work. "If I write music from my heart," he says, "I know someone else will believe in it."
Vicky Chow Performs Philip Glass' Etude No. 2
By Sarah Lindmark
The audience immediately began to clap after Vicky Chow's evocative performance of Philip Glass's restless Etude No. 1 for Solo Piano. But as soon as the slow, rising arpeggios from Glass's Etude No. 2 drifted up through the applause, a hush fell over the crowd. Chow was dressed in black and bathed in soft white light from the windows behind her, elegantly contrasted against the faded brick walls of the Wardwell Gallery at MASS MoCA. Apparently, Chow herself asked for the piano to be moved from the far end of the performance space to the middle, in front of the windows. It had the desired effect: after a concert featuring seven different etudes back to back, Chow's performance of Etude No. 2 quietly refused to leave the back of my mind.
As the piece progressed through its slow, rising, mid-range arpeggios, a single low note would drop from the tips of Chow's fingers, one at a time, like she was simply touching the surface of a puddle. Each pitch would resonate up and out of the piano, into the high ceilings of the Wardwell Gallery, reflecting off the faded brick walls and wood floor. In the third repeated phrase, Glass introduces notes from the piano's highest register, again one at a time, peaking out of the constant, repeated arpeggio figure. I was poised at the edge of each note, listening intently for the next rise and fall of the phrase.
The second etude in Philip Glass's first book of Etudes for Solo Piano is soft and pensive, as if the composer needed to come up for air after working through the fast-paced Etude No. 1. Chow's rendition of this particular Etude struck me as the clear highlight of the show – it was a moment of absolute peace before the flurry of leaps and scales to come in the next five etudes.
Even the engineer recording the event, after adjusting the three microphones situated near the inside of the Yamaha baby grand piano during the first Etude, sat down on the floor and shut his eyes to listen.
Entirely spellbound, the audience didn't clap at the end of Etude No. 2 – and then she was on to No. 3.
See the full article here .
five-ways-keep-your-child-safe-school-shootings
Please help promote STEM in your local schools.
NewSounds.org infuses the eclectic spirit of the radio show into a full online and live event experience. Combining the New Sounds radio show, WNYC's Soundcheck podcast and the adventurous spirit of WQXR's Q2 Music, NewSounds.org will be a place for discovery, conversation, insights into the creative process, and of course 24/7 music.
The centerpiece is New Sounds Radio, an online station hosted by New Sounds founder and long-running host John Schaefer, but infused with new, emerging voices including experimental musicians Kelly Moran, Eliza Bagg and Lora-Faye Åshuvud, and tastemakers Gamall Awad and Matt Werth, along with WQXR's Helga Davis and Terrance McKnight, and composer-guitarist Phil Kline. The station will feature an array of styles and genres – from singer Courtney Barnett to contemporary classical music ensemble Kronos Quartet, from jazz icon Henry Threadgill to the Nordic folk music of Wardruna, from electronic composer and bandleader Anna Meredith to the stunning vocals of Puerto Rico's Ileana Cabra.
"With almost everything ever recorded anywhere now available online, where do you start? New Sounds might be the place," said John Schaefer. "We try to be friendly and jargon free, and gleefully oblivious of genre. Our goal is to find the artists, the songs, and the sounds that you might love – if only you get a chance to hear them. And we believe that algorithms won't give you the same experience as a set of recommendations from real people. A friendly guide is the best way to discover new music, or music that defies easy categorization; and some of that music just might change your life."
"For three decades, New Sounds was one of the last bastions of free form FM programming; completely genre-free and dictated solely by the impeccable and irresistible tastes of its host," said Alex Ambrose, Senior Producer, New Sounds. "NewSounds.org will usher that sense of discovery and unpredictability into the digital age, drawing on the best of New York's curatorial and taste-making power."
For new music by living composers
newsounds.org from New York Public Radio

https://www.wnyc.org/
93.9FM
https://www.wqxr.org/
105.9FM
http://www.thegreenespace.org/
For great Jazz


88.3FM http://wbgo.org/
WPRB 103.3FM

Dan Buskirk Spinning Jazz Mondays 11:00AM-1:00PM
Will Constantine Jr, Blues Bop and Beyond Thursdays 11:00-2:00 featuring Latin Jazz
Jerry Gordon Serenade to a Cookoo Frdays 11:00AM-2:00PM with Jerry's Room at 1:00Pm
Jeannie Becker Sunday Jazz 10:00AM-1:00Pm

Please visit The Jazz Loft Project based on the work of Sam Stephenson
Please visit The Jazz Loft Radio project from New York Public Radio