From New Sounds: "Dispatches From the Bang on a Can Summer Festival 2018: Part 2
From New Sounds
Hand-picked music, genre free. 24/7 radio from New York City.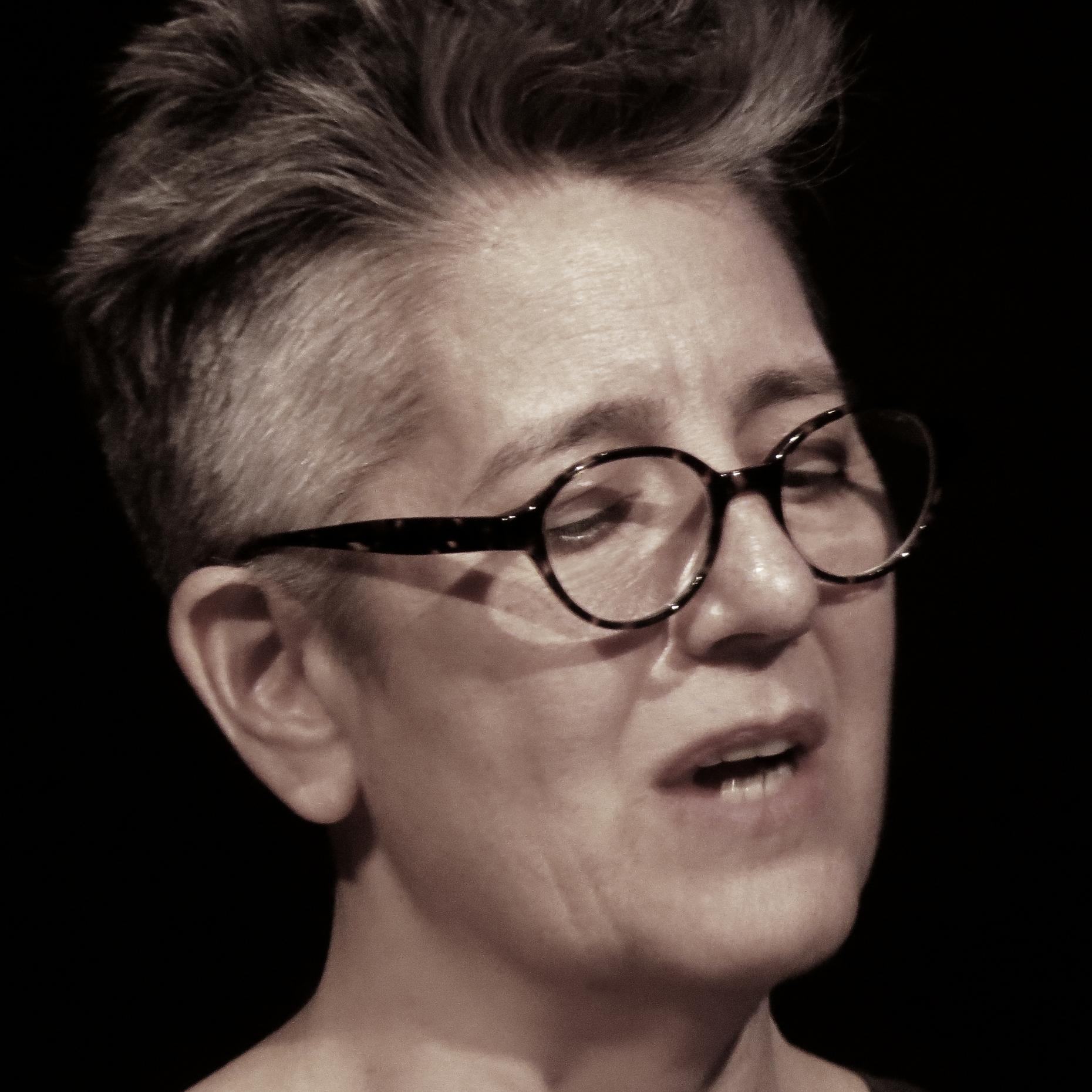 Eve Beglarian Photo credit: Carolyn Yarnell
7/25/2018
William Robin
It isn't surprising that each day at the Bang on a Can Summer Festival at Mass MoCA thus far has felt like a marathon, given the new-music collective's reputation for curating concerts of extreme durations.
But despite the long hours of rehearsals and concerts, John Schaefer and I haven't felt all that tired. Perhaps it's because we begin each morning by making a ruckus of uncanny sounds utilizing home-made instruments; or perhaps it's because the conversations we've had with the four aspiring writers that we are coaching this week have been so energizing.
Yesterday, our intrepid media Fellows attended two concerts, a seminar for composition Fellows led by the three Bang on a Can founding composers, and that aforementioned original instrument workshop guided by guitarist Mark Stewart. They also interviewed a slew of musicians, and somehow managed to fit in writing and discussing the essays you will read below. Maggie Molloy heard in Eve Beglarian's music a subversive and compelling personality; Stan Tymorek saw the same all-Beglarian concert, but arrived at an entirely different take on the composer's work. Sarah Lindmark sat down with three effusive flutist Fellows and discovered a bourgeoning friendship, and Lasse Hansen recognized the larger implications of a composer's musings on instrumentation.
It's been just as fascinating to watch these events unfold as it has been to read such diverse takes on what they have meant.
Eve Beglarian at Bang on a Can
By Maggie Molloy
There are 40,320 different ways to make music like a girl. Or at least, that's how many ways you can perform Eve Beglarian's piece Play Like a Girl. It's comprised of eight variations on a Bulgarian women's folk song that can be played in any combination, simultaneously or successively. The instrumentation is a mix of piano, toy piano, bells, celestas, and other "girly" instruments, according to the composer.
We were treated to one lively iteration of the piece Tuesday evening during a concert of Beglarian's works held at MASS MoCA, one of dozens of performances hosted at the museum over the course of Bang on a Can's annual three-week summer music festival. Around 150 people (including the composer) filled the gallery where the concert took place, standing and sitting in rows on chairs, floors, and window sills along an audacious 146-foot wall mural by Joe Wardwell.
This particular Beglarian piece featured a combination of faculty and student performers: Vicky Chow and Maire Carroll on piano four-hands, Karl Larson on synthesizer, and Adam Holmes on glockenspiel. The unusual collection of timbres made for a modern take on the distinctively close harmonies of Bulgarian folk music, with a restless stream of piano and glockenspiel melodies circling above a growling synth drone. While the driving rhythms propelled the piece closer to the world of minimalism, the more subtle modal ornaments embodied the emotive folk traditions of Eastern Europe. The title is of course subversive: Beglarian is forcing the audience to think critically about the language we use to describe music created by women.
Also featured on the program was Beglarian's heart-wrenching mixed chamber work Waiting for Billy Floyd, based on a short story by Eudora Welty about a vulnerable young woman who is raped at a fishing camp along the Mississippi River while waiting for her lover. Push the Dust, performed by Adam Holmes, featured the surrealist poetry of Henri Michaux spoken amid the meandering melodies of both live and pre-recorded vibraphone. The program, so wide-ranging in style and tone, ended with The Marriage of Heaven and Hell, a groove-driven setting of three proverbs by William Blake.
From a Long Story to a Short Musical Gem
Stan Tymorek
This is a story about different ways of telling a story.
At Bang On a Can's Summer Music Festival at MASS MoCA on Tuesday, the prominent new music composer Eve Beglarian knew her piece Waiting For Billy Floyd required an introduction. She told the audience at the all-Beglarian recital that it was based on Eudora Welty's short story At The Landing, about a young woman named Jenny who falls in love for the first time with Billy Floyd. While trying to find this wandering fisherman after he deserts her, she is raped repeatedly.
Beglarian said she was inspired to write Waiting For Billy Floyd during a boat trip down the Mississippi to Rodney, Miss., where the story is set. She even camped out in Rodney's town square to make a field recording of local sounds, mostly an unaccompanied chorus of barking dogs.
Yet even with her own evocative score, five highly accomplished musicians (playing flute, clarinet, violin, cello, percussion and piano), and the field recording, it would be impossible for any composer to directly translate eighteen pages of Welty's imagistic, dreamlike prose—which could take well over an hour to read—in a 10-minute piece of music. Instead, Beglarian's approach is poetic, using the power of her music to focus on the emotional crux of the story, the rape scene.
Waiting for Billy Floyd progressed from a soft piano and vibraphone duet to a full-blown love song when the rest of the sextet joined in. The violence of the assault was loudly announced when the piano turned dissonant, almost drowning out the other instruments. In a post-concert interview, Beglarian said she bluntly refers to this in rehearsals as "the rape music." In discussing the piece with other musicians, she said, some have questioned her score for indicating that the piano be played so loudly in triple forte. "They say you can't hear the other instruments," she said. "I know that!" The pianist's violent music rightly dominates the others' "joyous music," which, she pointed out, is all we hear at the quiet conclusion. That, and the barking dog, which Beglarian hears as a sign that Billy is coming back to Jenny. "The joyous music fucking wins that piece!" she said, proving her words can be as forceful as her music.
Flutes of a Feather Flock Together
Sarah Lindmark
How often is the phrase "Flute party!" shouted into the summer breeze? Not enough, apparently, according to the three flutists at the Bang on a Can Summer Music Festival at MASS MoCA. Alexis Letourneau, Philip Snyder, and Jennifer Timmins shout the phrase at top volume whenever they run into each other in the seemingly endless halls of the contemporary art museum.
Although frequent rehearsals can be tough for the festival's performance Fellows, Jennifer Timmins smiled as she mentioned how much she's gained from the experience. "We're not here to learn to be flutists. We're here to learn to be musicians and citizens of this community," she said.
Michael Gordon's Yo Shakespeare, one of the pieces they've had to grapple with together, calls for the three of them to play sets of hand-made pan pipes. According to Jennifer, "the piece is a banger," but it has a series of intricate rhythms that are hard to master on an instrument that is played so differently than the flutes they're used to. She added, "it takes more air, and it takes longer for the air to produce a sound."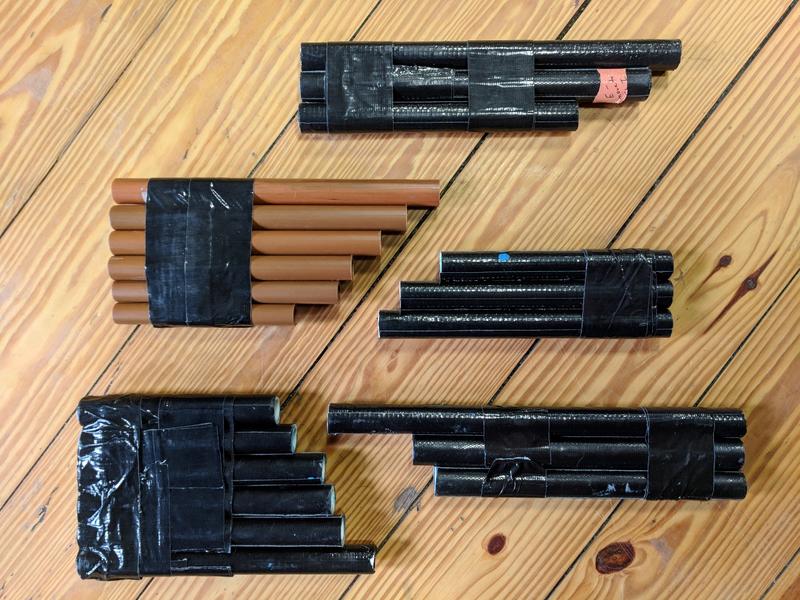 hand-made pan pipes
(John Schaefer/ NYPR)
A sense of true camaraderie shone through as the conversation turned to their fast friendship, and Philip and Alexis laughed about playing orchestral excerpts together before rehearsals. Jennifer spoke to how easy it was "to naturally gravitate towards each other" upon meeting people who "just want to play music but just happen to play the flute." "There are a lot of stereotypes about flute playing," she continued, just as Alexis interrupted her to add, "which the three of us all defy." At any other summer music festival, one might expect these three to viciously compete for top spot or principal chair, but it's clear that these performance Fellows value community over competition.
Putting it together: Brooks Frederickson at the Bang on a Can Summer Festival
by Lasse D. Hansen
Given the opportunity to work with noted conductor Brad Lubman, composer Brooks Frederickson did not think twice: This was the ensemble he was going to write a new piece for. It was in spring 2018, and the Bang on a Can Summer Music Festival asked him to choose one of three different instrumentations for the commission work he was about to write for the festival's Musician Fellows.
Giving the unusual instrumentation a second look it struck him: "Oh no! What am I going do with four percussionists and two singers?" Realizing that this configuration of instruments would probably never be accessible again, Frederickson decided to focus his attention on making the most out of this particular event by not worrying about usual concerns for a classical composer, such as whether the music would be suitable for every other hall or playable for every other musician. Instead he joined the Festival Ensemble on stage at the World Premiere Composer Concert this Monday – the only one of the nine Composition Fellows to do so.
"I didn't intend to write myself into the piece in the beginning," Frederickson recalled in an interview at MASS MoCA Wednesday afternoon, "but as I was working on it I started to get really interested in vocoders. It's an instrument that basically creates a new sound by taking two existing sounds and putting them together, and voices are really good for that." Using the two singers as source material he wrote himself a vocoder part.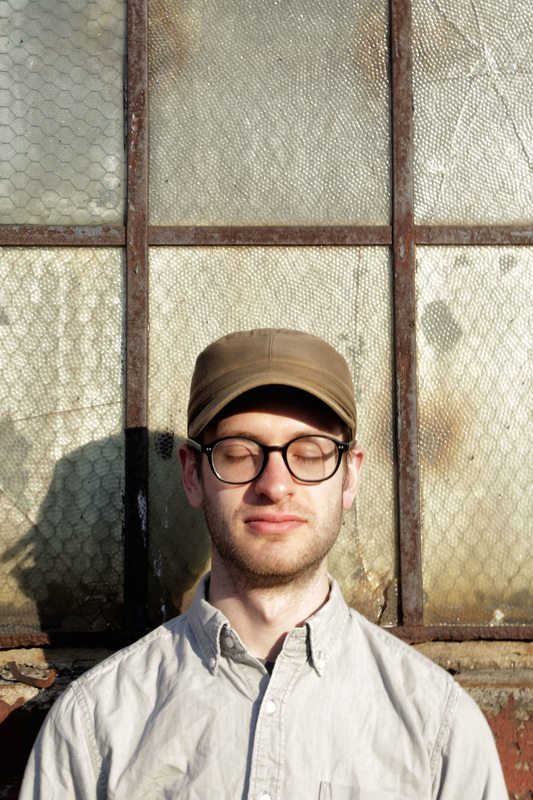 Brooks Frederickson (Julie Rooney)
When he lived in New York, surrounded by highly skilled musicians for eight years, Frederickson didn't perform much. Now, having just moved to Durham, NC, where there are fewer musicians around, he is getting more involved in the performance of his music.
"I want to be a participant in my music rather than just write it, send it off, show up at the rehearsal, say 'It's good!' and sit in the audience," he said. "This piece is a continuation of that feeling. I'm still getting comfortable with being back on stage and I have to relearn how not to be afraid of it or to have stage fright again, and that feels good."
Stratus-embedded waves moving against mean flow received its world premiere performance by the 2018 Bang on a Can Summer Music Festival Ensemble and Brooks Frederickson this Monday evening at MASS MoCA.
See the full article here .
five-ways-keep-your-child-safe-school-shootings
Please help promote STEM in your local schools.
NewSounds.org infuses the eclectic spirit of the radio show into a full online and live event experience. Combining the New Sounds radio show, WNYC's Soundcheck podcast and the adventurous spirit of WQXR's Q2 Music, NewSounds.org will be a place for discovery, conversation, insights into the creative process, and of course 24/7 music.
The centerpiece is New Sounds Radio, an online station hosted by New Sounds founder and long-running host John Schaefer, but infused with new, emerging voices including experimental musicians Kelly Moran, Eliza Bagg and Lora-Faye Åshuvud, and tastemakers Gamall Awad and Matt Werth, along with WQXR's Helga Davis and Terrance McKnight, and composer-guitarist Phil Kline. The station will feature an array of styles and genres – from singer Courtney Barnett to contemporary classical music ensemble Kronos Quartet, from jazz icon Henry Threadgill to the Nordic folk music of Wardruna, from electronic composer and bandleader Anna Meredith to the stunning vocals of Puerto Rico's Ileana Cabra.
"With almost everything ever recorded anywhere now available online, where do you start? New Sounds might be the place," said John Schaefer. "We try to be friendly and jargon free, and gleefully oblivious of genre. Our goal is to find the artists, the songs, and the sounds that you might love – if only you get a chance to hear them. And we believe that algorithms won't give you the same experience as a set of recommendations from real people. A friendly guide is the best way to discover new music, or music that defies easy categorization; and some of that music just might change your life."
"For three decades, New Sounds was one of the last bastions of free form FM programming; completely genre-free and dictated solely by the impeccable and irresistible tastes of its host," said Alex Ambrose, Senior Producer, New Sounds. "NewSounds.org will usher that sense of discovery and unpredictability into the digital age, drawing on the best of New York's curatorial and taste-making power."
For new music by living composers
newsounds.org from New York Public Radio

https://www.wnyc.org/
93.9FM
https://www.wqxr.org/
105.9FM
http://www.thegreenespace.org/
For great Jazz


88.3FM http://wbgo.org/
WPRB 103.3FM

Dan Buskirk Spinning Jazz Mondays 11:00AM-1:00PM
Will Constantine Jr, Blues Bop and Beyond Thursdays 11:00-2:00 featuring Latin Jazz
Jerry Gordon Serenade to a Cookoo Frdays 11:00AM-2:00PM with Jerry's Room at 1:00Pm
Jeannie Becker Sunday Jazz 10:00AM-1:00Pm

Please visit The Jazz Loft Project based on the work of Sam Stephenson
Please visit The Jazz Loft Radio project from New York Public Radio