From New Sounds
Hand-picked music, genre free. 24/7 radio from New York City.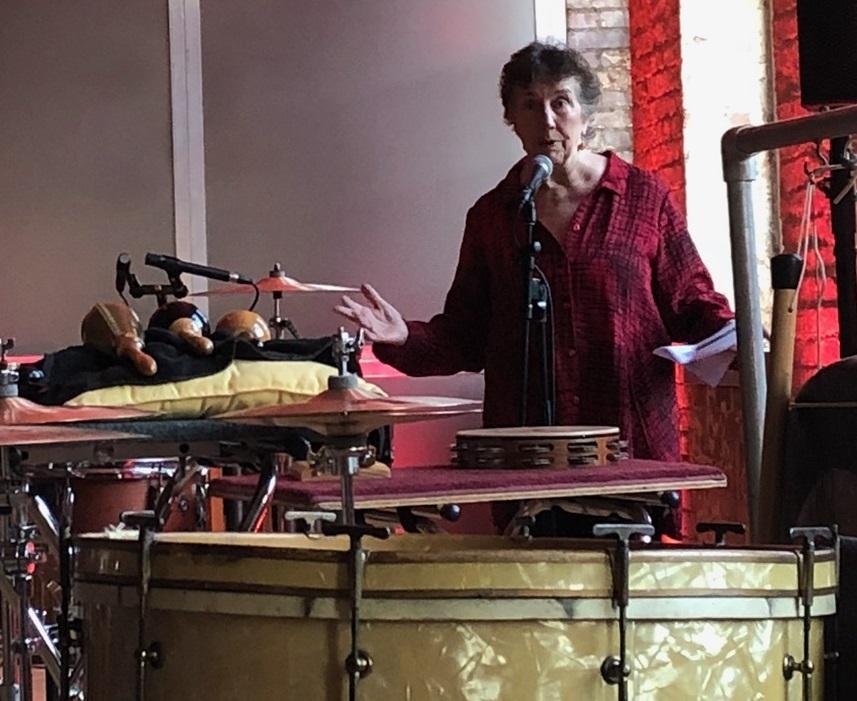 Joan Tower. Photo credit: Maggie Molloy/Bang on Can Media Fellows
Profile of a Composer In Five Quotes and a Laugh
By Stan Tymorek
"Imagine me at Bang On a Can! They're so cutting edge," composer Joan Tower said to a MASS MoCA audience on Thursday night. "I'm elderly, but I guess I'm adventurous."
Tower was being modest. She comically screwed up her face at the word "elderly," but this year the music world is happily celebrating her 80th birthday with a number of performances dedicated to the adventurous composer. At the Bang On a Can concert of her music, her quick wit and enthusiastic encouragement of the musicians were on display.
"I love percussion and percussionists. They're the salt of the earth," Tower said when introducing her piece DNA for five of these instrumentalists. It shows how she treats percussion instruments like people, because she said the title refers to the DNA of cymbals, drums and woods.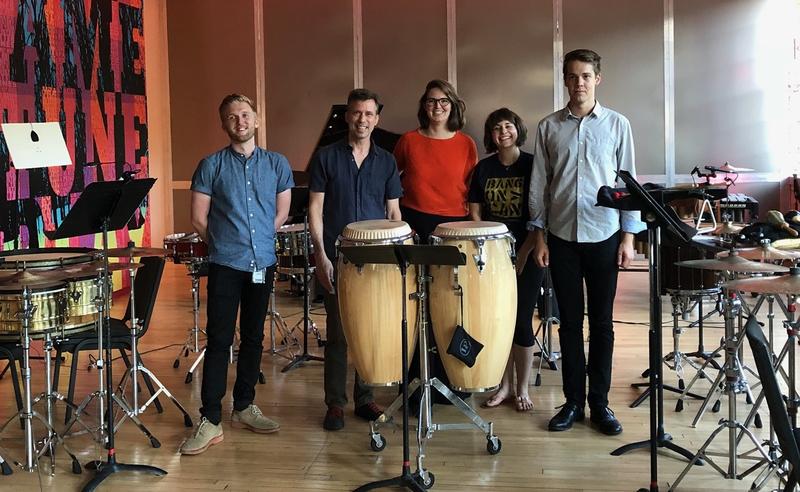 Percussionists For Joan Tower's "DNA"
(Maggie Molloy/Bang on Can Media Fellows )
As she began to talk about her next composition, Sixth Fanfare for the Uncommon Woman for solo piano—part of a series of acclaimed works riffing on the title of Copland's famous Fanfare that have been performed by dozens of groups around the world"—she looked at the program and saw the misprint "Common." Some composers would have been outraged; Tower laughed it off.
When Piano Fellow Fei Nie finished playing the Sixth Fanfare, Tower embraced her. "I love the intimacy of music," she told the audience. "I know a lot about her after hearing her play that piece. But she knows a lot more about me."
Next up was another piece demonstrating Tower's affection for percussionists. Small was written for about a dozen small percussion instruments that she wanted to fit in one, easily carried bag. "That way the musicians can pack up quickly after a performance and not miss the party," she explained. "Percussionists have always been delayed by having to take down big instruments like marimbas."
The final selection on the program was Noon Dance, for flutes, clarinet, violin, cello, percussion and piano. In his introduction, Nick Photinos, Bang On a Can's Faculty cellist, recalled an earlier performance of the piece. When Photinos and the other members of the popular new music ensemble Eighth Blackbird were still in school, Noon Dance was the first sextet they played. "It meant so much to us that Joan was there," he said. "When she came up to us after the performance, tears were in her eyes."
Less nostalgically, Tower quipped, "I never really liked that piece." She turned to Photinos and added, "but your ensemble's commitment made it sound so special."
Alicia Jane Turner: A Composer of Contradictions
By Sarah Lindmark
Composer Alicia Jane Turner has spent the last three weeks dragging her friends (and in this case an almost complete stranger) with her into the Turrell Gallery at MASS MoCA. The first stop on Turner's impromptu gallery tour, an installation titled Afrum, was a bright white projection in the corner of a dark room that looked strangely like a 3-D object. The second stop, titled Guardian, looked at first like a flat projection, but after close inspection was actually a cavernous hole cut into the side of the gallery. The other installations in the Turrell exhibit feature disorienting washes of color in complete darkness.
The performance art she is known for in London, where she grew up and still resides today, expresses the sexuality and gender politics involved with listening. Many of her works are interactive, and she highly values being involved in every aspect of the production process. "I collaborate with lighting designers and sound designers, or I work as a sound designer on other artists' projects," she said while talking about her most recent performance art project titled Breathe. The intimate piece has the listener tune in to Turner's heartbeat and breath while she experiences fear and anxiety.
Turner's fascination with Turell's work stems from her interdisciplinary background. "I'm really interested in putting new music into different contexts, mainly theater and performance art," she said. She doesn't typically write concert music, in part because her education didn't take place at a music conservatory like many of her counterparts. "I haven't been around a lot of really expensive instruments," she stated matter-of-factly. The resources at Bang on a Can have allowed her to experiment with a wider variety of instruments. The piece she premiered Thursday night, titled Valves, for example, utilizes a violin, vibraphone, and a cymbal. During the concert, the violinist danced on the fine line that separates a clear, distinct tone from a distorted, crunchy, sul-ponticello sound in true Alicia Jane Turner style.
In stark contrast to her bright, welcoming personality, she's worn exclusively black over the last five days of the Bang on a Can Summer Music Festival, and greatly admires the similarly friendly attitudes of the festival's storied founders Julia Wolfe, Michael Gordon, and David Lang. "A lot of people writing contemporary classical music or new music are really patronizing when they talk about things and they're really elitist," she said. The Bang on a Can founders, however, "talk about things in a really matter-of-fact way, so that they don't alienate people." On the other hand, Turner loves their music because they utilize many of the same sounds and techniques that she works with in her own interdisciplinary compositions.
"I like Marilyn Manson, and I really like Arvo Pärt," said Turner while talking about how she doesn't quite see herself fitting in to the world of new music. Nervous about being an outsider among composers she admires for their accepting attitude, she and her work live in a beautiful world of contradictions.
The Celestial Music of Samn Johnson
By Maggie Molloy
It's 9pm on a Thursday and Samn Johnson is sitting at a picnic table outside MASS MoCA talking about the cosmos. He pushes his curly blonde hair back from his forehead as he excitedly describes a new app on his phone that allows him to map the constellations. Later tonight at an after-hours concert, one of his pieces will be performed under a different set of stars: Spencer Finch's glimmering LED light installation Cosmic Latte.
Johnson is one of nine composer Fellows at the Bang on a Can Summer Festival, where he's spent the past three weeks writing and rehearsing new music with performers from around the world. For the festival he has composed three new works, each one inspired in some way by time, space, or the celestial spheres.
Tonight's premiere is an ethereal, three-minute saxophone quartet which will be performed by Dylan Ward, Luke Carbon, Ken Thomson, and Susan Summers. The piece, which is not yet titled, unfolds through broad washes of harmony that seem to hang suspended in mid-air, slowly spinning below the stars.

Spencer Finch's light sculpture, Mass MOCA
(John Schaefer/ NYPR)
"There's something very comforting about music's ability to manipulate time," Johnson says. A good composer, he points out, can make time move faster or slower, allowing certain moments to pause or repeat. Sometimes an hour-long piece can pass by in the blink of an eye, or a three-minute miniature can stretch on for an eternity. By altering the audience's perception of time, he believes music can address the transitory nature of humanity.
In fact, Johnson's music often juxtaposes different historical forms and styles as a way of circumventing the linear march of time. Blue Aurora, his string chamber work performed on Monday, employed an abstracted concerto grosso form to depict a cloudy nocturnal scene drifting in and out of focus. A gallery performance on Tuesday featured a celestial motet he wrote based on a medieval chant titled Ave Maris Stella (Hail Star of the Sea). Johnson's rendition reversed the traditional roles of voice and accompaniment and softened the modal harmonies of the Gregorian chant, highlighting its haunting and ephemeral qualities.
"It feels like the ghosts of forgotten centuries," he says. "I'm fascinated by this idea of trying to bring back something that's irreparably broken."
See the full article here .
five-ways-keep-your-child-safe-school-shootings
Please help promote STEM in your local schools.
NewSounds.org infuses the eclectic spirit of the radio show into a full online and live event experience. Combining the New Sounds radio show, WNYC's Soundcheck podcast and the adventurous spirit of WQXR's Q2 Music, NewSounds.org will be a place for discovery, conversation, insights into the creative process, and of course 24/7 music.
The centerpiece is New Sounds Radio, an online station hosted by New Sounds founder and long-running host John Schaefer, but infused with new, emerging voices including experimental musicians Kelly Moran, Eliza Bagg and Lora-Faye Åshuvud, and tastemakers Gamall Awad and Matt Werth, along with WQXR's Helga Davis and Terrance McKnight, and composer-guitarist Phil Kline. The station will feature an array of styles and genres – from singer Courtney Barnett to contemporary classical music ensemble Kronos Quartet, from jazz icon Henry Threadgill to the Nordic folk music of Wardruna, from electronic composer and bandleader Anna Meredith to the stunning vocals of Puerto Rico's Ileana Cabra.
"With almost everything ever recorded anywhere now available online, where do you start? New Sounds might be the place," said John Schaefer. "We try to be friendly and jargon free, and gleefully oblivious of genre. Our goal is to find the artists, the songs, and the sounds that you might love – if only you get a chance to hear them. And we believe that algorithms won't give you the same experience as a set of recommendations from real people. A friendly guide is the best way to discover new music, or music that defies easy categorization; and some of that music just might change your life."
"For three decades, New Sounds was one of the last bastions of free form FM programming; completely genre-free and dictated solely by the impeccable and irresistible tastes of its host," said Alex Ambrose, Senior Producer, New Sounds. "NewSounds.org will usher that sense of discovery and unpredictability into the digital age, drawing on the best of New York's curatorial and taste-making power."
For new music by living composers
newsounds.org from New York Public Radio

https://www.wnyc.org/
93.9FM
https://www.wqxr.org/
105.9FM
http://www.thegreenespace.org/
For great Jazz


88.3FM http://wbgo.org/
WPRB 103.3FM

Dan Buskirk Spinning Jazz Mondays 11:00AM-1:00PM
Will Constantine Jr, Blues Bop and Beyond Thursdays 11:00-2:00 featuring Latin Jazz
Jerry Gordon Serenade to a Cookoo Frdays 11:00AM-2:00PM with Jerry's Room at 1:00Pm
Jeannie Becker Sunday Jazz 10:00AM-1:00Pm

Please visit The Jazz Loft Project based on the work of Sam Stephenson
Please visit The Jazz Loft Radio project from New York Public Radio