From Mostly Mozart
August 3, 2018
Susan Reiter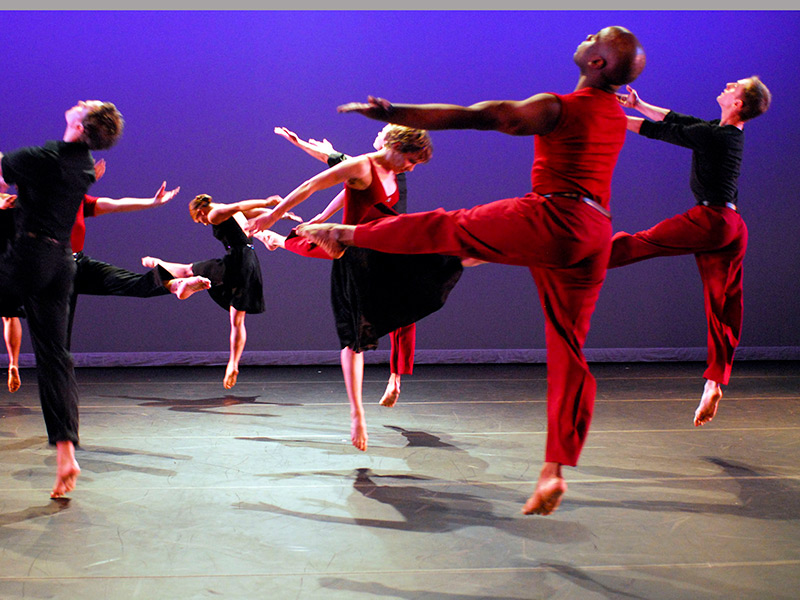 Mark Morris Dance Group/Love Song Waltzes Photo by Stephanie Berger.
Mark Morris and Mostly Mozart—the names not only make an alliterative pairing, but together they have been the source of numerous enriching performances. Since the Mark Morris Dance Group first appeared as part of the 2002 Mostly Mozart Festival, the troupe has become its unofficial resident dance company. Given Morris's impressive breadth of musical knowledge and sophisticated insight into the scores to which he sets his dances—what other choreographer has also served as a conductor for his company's performances—an ongoing connection with a music festival seems logical, almost inevitable.
Often the festival has provided a grand stage for a full-evening Morris creation, such as his 1988 masterwork L'Allegro, il Penseroso ed il Moderato, which introduced Morris's work to Mostly Mozart Festival audiences and made two return appearances. In 2006, to mark the 250th anniversary of its namesake's birth, Mostly Mozart offered the world premiere of Morris's stirring and bountiful Mozart Dances, set to two piano concertos framing a piano sonata. The work returned in 2007 and again in 2016, when Mostly Mozart celebrated its 50th anniversary. In 2012 the company performed— and Morris himself conducted—his acclaimed 1989 production of Purcell's Dido and Aeneas.
But in between these grander works, the festival has also welcomed more intimate Morris programs of dances set to chamber music scores. A 2011 program exemplified the range of Morris's musical interest and curiosity, combining dances set to Stravinsky, Hummel, and Satie.
Morris's presence at Mostly Mozart is primarily due to his ongoing collaboration with Jane Moss, Ehrenkranz Artistic Director, who has also included Morris programs in Lincoln Center's annual White Light Festival. "Jane has supported me and my company very strongly for many years," Morris notes. "We fit in with Mostly Mozart because of the way I work choreo-musically."
For this year's festival, Moss offered Morris an opportunity to choreograph a new work to Schubert's Quintet in A major ("Trout"), one of the composer's best-known and most admired chamber music works—and one that Morris had been interested in "for many decades." The Trout, for 11 dancers, becomes the second Morris work to have its world premiere at Mostly Mozart.
However familiar Morris may have thought he was with the 1819 five-movement work, he was surprised at what he heard as he began choreographing. "I thought I knew the 'Trout' perfectly, and I don't. It's not at all the way you think it's going to be, based on sonata form in chamber music from that period. It's supposed to follow a certain set of rules that we all take for granted, but it doesn't do what you expect. It's sort of stream of consciousness, in a fabulous way. It's surprisingly asymmetrical and rule-breaking.
"The themes and progressions, along with melodicles—as Lou Harrison called little fragments of melody—are played around with throughout the length of the piece. So when the theme and variations arrive in the fourth movement, you've heard all of that material, and you may not even know the song—but there it is," Morris says. "I wanted to present this mix of music, and dances from different periods of my work, including some old stuff we don't do very often. The Monteverdi I've been wanting to bring back for a long time."
Together with Moss, Morris shaped the program that is anchored by The Trout premiere, representing quite a range of Morris's career—the three works span nearly 30 years—and contrasting musical forces. I Don't Want to Love (1996) is set to seven Monteverdi madrigals, performed by four vocalists with harpsichord, theorbo, lute, and cello. Love Song Waltzes (1989) is set to Brahms's Liebeslieder-Walzer, Op. 52, for a quartet of vocalists and piano four hands.
five-ways-keep-your-child-safe-school-shootings
Please help promote STEM in your local schools.
See the full article here .
For new music by living composers
newsounds.org from New York Public Radio

https://www.wnyc.org/
93.9FM
https://www.wqxr.org/
105.9FM
http://www.thegreenespace.org/
For great Jazz


88.3FM http://wbgo.org/
WPRB 103.3FM

Dan Buskirk Spinning Jazz Mondays 11:00AM-1:00PM
Will Constantine Jr, Blues Bop and Beyond Thursdays 11:00-2:00 featuring Latin Jazz
Jerry Gordon Serenade to a Cookoo Frdays 11:00AM-2:00PM with Jerry's Room at 1:00Pm
Jeannie Becker Sunday Jazz 10:00AM-1:00Pm

Please visit The Jazz Loft Project based on the work of Sam Stephenson
Please visit The Jazz Loft Radio project from New York Public Radio